Water and Sewer, Complete Site Excavation, Demolition & More in Regina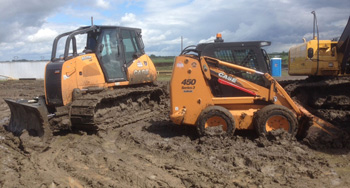 Complete Site Excavation
If you are building a new home or business, Vic's Excavating Ltd provides complete site excavation to install water and sewer, gas, power, and telephone lines. We have a wide variety of excavators from large track hoes to mini walk behinds.
Basement Excavating
Vic's Excavating Ltd provides complete residential basement excavation whether it be for new home construction or maintenance to existing homes with basement repairs being worked on.
Waterproofing
Vic's Excavating Ltd provides complete waterproofing solutions to keep your basement dry and comfortable for years to come. If you notice excess moisture, basement leaks or have basement flooding, contact us to inspect these issues.
Sump Pumps and Pits
Vic's Excavating Ltd also installs sump pumps and pits for complete flood proofing in any residential, commercial or industrial application.
Weeping Tile
Weeping tile is one of the most important components to ensure your home has optimal flood protection. The weeping tile is a corrugated drain pipe that surrounds the perimeter of the basement and is used to drain excess groundwater collection away from the home. If there are any issues with the weeping tile, this puts your basement at risk to flooding. We will repair damaged weeping tiles and if needed provide a complete weeping tile replacement and installation.
Demolition Services
For all your demolition needs from commercial building to residential garages. We also offer complete site cleanup.
Backwater Valves Installation
We encourage our customers who need sewer line replacements to install main line backwater valves in their basements. This will save you from future backups in your basement.
Track Hoe Services
We also use track hoe machines to offer even more excavating services, including holding tanks, open discharge, and soil based field systems.
Water Service Installation and Repair
If you experience water main breaks, cracked pipes or burst pipes we provide the appropriate repair services. If you have an emergency pipe break be sure to contact us as soon as possible. We also provide new water line service installation for new construction or renovation projects.
CCTV Inspections
We specialize in CCTV inspections which utilizes mini cameras to view hard to reach locations. When there is an unknown problem, we are able to utilize our cameras to provide drain, sewer and pipeline video inspection.
Sewer Installation and Repairs
We offer complete residential and commercial sewer contracting services. This includes new sewer installation, sewer inspections, sewer line replacement, and sewer repairs. We specialize in trenchless sewer replacement which is perfect for hard to reach locations and reduces the need for additional excavation. This can prevent the need to disrupt driveways, landscaping, or even interior flooring.